Northern Ireland Travel
Northern Ireland has come a long way from the days of the "Troubles" and in fact, is one of the world's leading tourist locations for sites such as the Titanic Exhibition, and of course the famous TV series Game of Thrones. Northern Ireland travel is perfectly safe and in such a small place you can drive across the country in around 2 hours.
In Northern Ireland, national identity is complex and diverse. Most people of Protestant background consider themselves British, while a majority of people of Catholic background consider themselves Irish. In Northern Ireland, the so-called Catholic minority is fast approaching a majority and changes are around the corner with the new younger generations who didn't have to live through the "troubles".
The United Kingdom of Great Britain and Northern Ireland (UK), since 1922, is comprised of four countries: England, Scotland, and Wales (which collectively make up Great Britain), as well as Northern Ireland.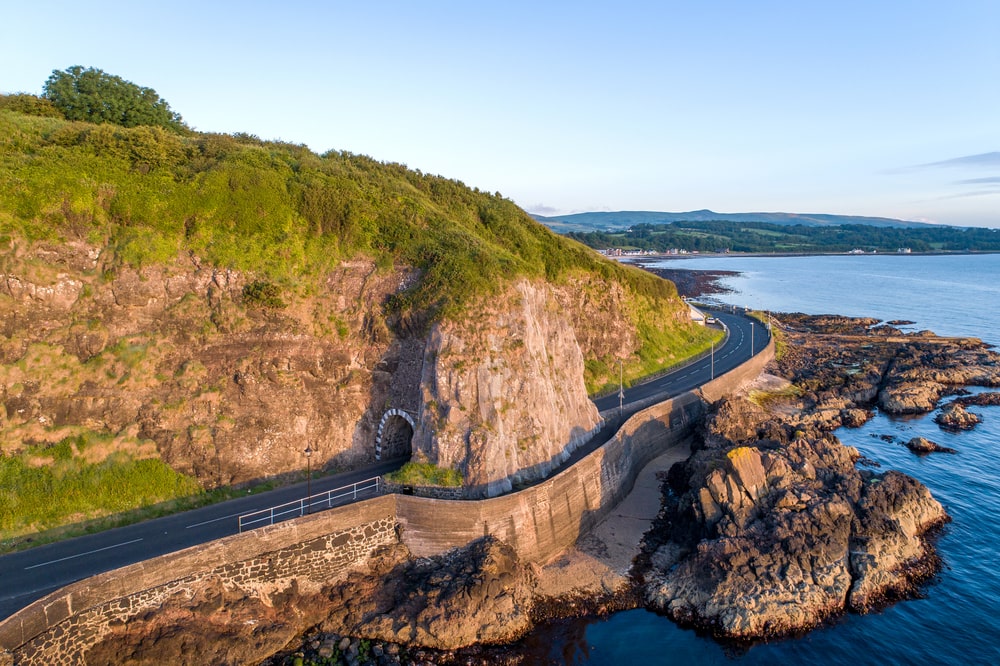 The capital of Northern Ireland is Belfast which is where you will find the Titanic Exhibit and dozens more fascinating sites. Don't forget to visit the peace wall and take a Black Taxi tour to learn about the civil war that cost many lives.
You will undoubtedly want to visit the Causeway Coast and many of the Game of Thrones sites, but you can also cross the iconic Carrick-a-Rede rope bridge, see Mussenden Temple, visit the stunning ruins of Dunluce Castle and of course hang out in fascinating Derry for a few days.
From Belfast, you can hike the Gobbins, check out a Linen Museum, visit a Giant's Ring and so much more, don't limit yourselves to the Giant's Causeway go and explore the Sperrin Mountains or County Down.
Ulster has nine counties, six of which are in Northern Ireland. These include Antrim, Armagh, Down, Fermanagh, Londonderry and Tyrone. The remaining three are in the Republic of Ireland and they are Cavan, Donegal, and Monaghan.
The currency used in Northern Ireland is the same as in the rest of Great Britain the pound, Sterling. As in the Republic of Ireland, there are no border crossings from the ROI to Northern Ireland and to the rest of Britain.
Another advantage of visiting and renting a car in Northern Ireland is no toll roads and many times you won't know if you have crossed a border until you see the speed signs change from miles to kilometres.
If you want to plan a Northern Ireland travel itinerary you could start by putting together your bucket list. My post on 101 Landmarks in Northern Ireland can help with that.
Northern Ireland travel questions
Why are Northern Ireland and Ireland separate?
Northern Ireland was created in 1921, when Ireland was partitioned by the Government of Ireland Act 1920, creating a devolved government for the six northeastern counties. The majority of Northern Ireland's population were unionists, who wanted to remain within the United Kingdom.
What is Ireland's climate?
Our climate can be summed up as being mild, rainy and changeable with abundant rainfall and a lack of temperature extremes. Extreme winters are rare, and you're more likely to encounter a warm glow than a frosty reception, with average winter temperatures of between 40°F/5°C and 46°F/8°C. Having said that we have met up with light snow in the winter months.
Is Irish spoken in Northern Ireland?
There is a strong growing movement and laws ready to be passed in Northern Ireland to make Irish Gaelic the second language of the Country. You will find most of the highway signs in both Irish and English. Speakers of Irish in Northern Ireland are predominantly second language learners and most people learn the language through the education system or at informal language classes held throughout Northern Ireland.
What is food like in Northern Ireland?
You will find plenty of fresh seafood, homemade cakes, scones, soda bread and delicious regional favourites. Fresh local food is preferred in Irish restaurants and we have the same information available for allergies and dishes free from ingredients like gluten, dairy and other allergens.
Northern Ireland travel guides
There is more to Northern Ireland than the Titanic or Game of Thrones. The surrounding rural landscapes of Ireland offer neolithic sites, ruined castles, stunning landscapes and all those shades of green that gave Ireland its Emerald Isle name. I've written over 100 posts on Ireland including many on where I live in Donegal. If you are searching for something specific just type it into the search box above to find.